3 Reasons of Selecting Knitted Mesh Filter
Knitted wire mesh filter is made of metal wires with flexible & strong interlocking loops. This special structure makes it distinguish from other metal filters like wire mesh or sintered mesh filters. First, it can move freely in the same plane without distorting the mesh. Second, it can stand up with thermal shock and vibrations without breaking up. The two advantages make it versatile in filtration, especially in depth filtration.
Three reasons of selection knitted mesh filter:
Flexible, strong and resilient characters coupled with heat, corrosion and shock resistance make it ideal for extreme applications.
Available in any shapes to suit the filtration uses.
Tortuous path construction creates larger dirt-holing without blockage.
KWMF-1
Compressed stainless steel knitted mesh filter
Product specification:
Item: knitted wire mesh filter.
Material: stainless steel, galvanized & carbon steel.
Wire diameter: 0.002 to 0.03 inch.
Density: 48, 60, 76, 100 & 130 opening/inch.
Structure: layered, compressed & spiral wound.
Shapes: rings, tapes, cylinders, discs & special shapes (on record).
Features & Benefits:
Interlocking wire loop structure.
Withstand high temperature & corrosions.
Withstand thermal shock and vibration without breaking up.
Excellent filtration capability.
Available in any special forms.
Ideal for depth filtration.
Economical cost.
Applications:
Airbag slag filters.
Kitchen range hood grease filter.
Intake filters for air compressors.
Air intake filters for automotive vehicles & engines.
Fuel filters.
Fuel injection filters.
Oil & air breather elements.
Oil bath separators.
Engine breathers.
Attenuation filters in pneumatic tools.
KWMF-2
Black wire knitted mesh
KWMF-3
Black wire knitted mesh filter roll
KWMF-4
Copper knitted mesh filter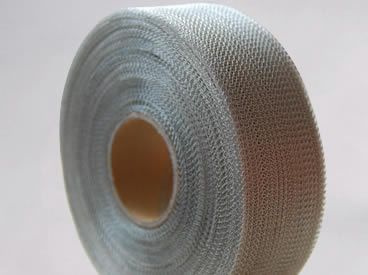 KWMF-5
Knitted mesh tape with 60 opening/inch
KWMF-6
Stainless steel knitted mesh for corrosive-liquid filtration
KWMF-7
Knitted mesh gaskets - elastomer with knitted mesh overlaid
KWMF-8
Crimped knitted mesh flats
KWMF-9
Knitted mesh grease filters
KWMF-10
Rectangle knitted mesh demister pad
KWMF-11
Round knitted mesh demister pad
KWMF-12
Knitted mesh air bag filters
KWMF-13
Thick compressed knitted mesh filters discs
KWMF-14
Compressed knitted mesh for filtration, separating and gaskets
KWMF-15
Rectangle knitted mesh filter
KWMF-16
Knitted mesh cartridge filter
KWMF-17
Knitted mesh cylindrical filter welded to external plain wire mesh
Inquiry for Our Product
When you contact us, please provide your detail requirements. That will help us give you a valid quotation.