Stainless Baffle Filter Better than Mesh Filter, Why?
Metal mesh filters, typically refer to aluminum filters, are composed of multiple layers of fine aluminum or steel mesh and supportive frame. Greasy fumes produced by cooking will pass through the mesh and deposit into a grease trap to avoid clogging up on the mesh. However, if not cleaned promptly and rightly, grease will build up.
Stainless steel baffle filters are increasingly employed by commercial & residential kitchens not only for its appearance but also its efficiency in grease filtration and lower fire risk rate. Different from metal mesh grease filters, baffle grease filters are constructed by interlocking baffles with tortuous route for the passage of grease oil. The oil particles finally follow down the smooth vanes and collects within the canopy holding casings.
Table 1 Stainless steel baffle filter VS aluminum mesh filter
Stainless steel baffle filter
Aluminum mesh filter
Pros
Cons
Pros
Cons

Heat, flame & grease proof
Friendly to dishwasher.
Aesthetic appearance.
Premium corrosive-resistance.
High working temperature.
Cost-effective in the long term.
More durable.

More expensive than aluminum.
Heavier than mesh filter.

Less expensive than stainless baffle filters.
Dishwasher safe.

More noisy than baffle filters.
Fire safety lower than baffle filters.
Can't stand with high temperature.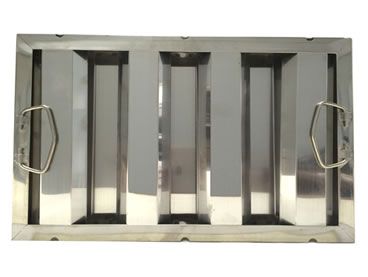 Fig-1
Stainless Steel Hood Baffle Filter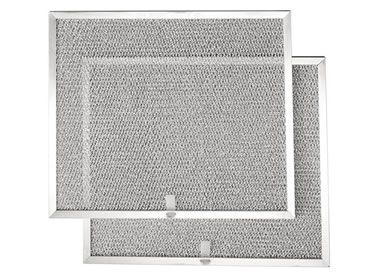 Fig-2
Aluminum Mesh Filter
Inquiry for Our Product
When you contact us, please provide your detail requirements. That will help us give you a valid quotation.