Wedge Wire Screen Flat Panels with Diverse Types
WWSFP-1
Wedge flat panels with frame
Wedge wire screen flat panels consist of a series of parallel "V-shaped" profile wire resistance welded or looped on perpendicular support rods. They are manufactured by high quality stainless & acid-proof steel with premium corrosive-resistance as well as mechanical strength. V wire screen with slot openings widening inwardly ensures the particles pass through smoothly and reduce clogging.
Precise slot opening by our experienced staff can reach 0.03 mm. This micron-rated spacing provides attractive solution for filtering, sizing, dewatering, collecting and separating solids from liquids.
Wedge wire screen flat panels have two finishes - looped & welded (see WWSFP-2 & WWSFP-3). They are framed or reinforced to suit applications. The common bar includes rectangle or angle steel welded to the side of the panel.
Product specification:
Item: wedge wire screen flat panel.
Material: AISI 304, 316 stainless steel.
Slot opening: from 0.03 mm.
Spacing between support rods: 25, 50, 75, 100, 300 mm (or on request).
Length: 2000 mm to 2800 mm.
Width: 4000 mm to 4500 mm.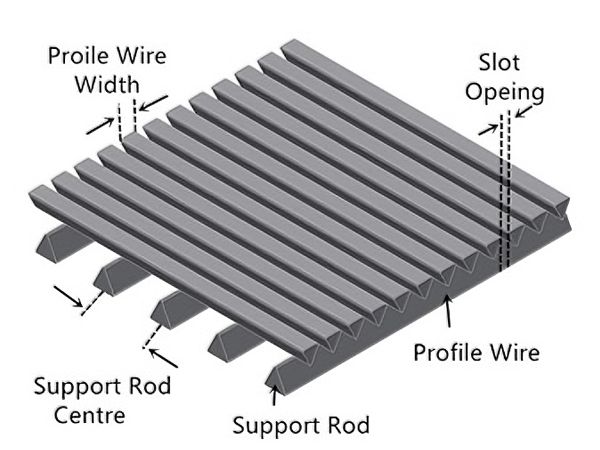 WWSFP-2
Construction of wedge wire screen flat panel
Features & Benefits:
No-clogging Structure.
High-precision slot space & high slot opening ration.
High abrasion and corrosion resistance.
Low pressure drop.
Mechanical strength construction.
Bespoke specification for specific machines & uses.
Diverse apertures & profiles supplied.
Self-cleaning effect.
Smooth & flat surface.
Applications:
Industrial filtration.
Food processing.
Petrochemical.
Mineral and aggregate processing.
Water treatment.
Depending on manufacturing structure, there are two finishes as below - welded (see WWSFP-4) & looped (see WWSFP-3):
WWSFP-3
Wedge wire screen flat panel - looped
WWSFP-4
Wedge wire screen flat panel - welded
WWSFP-5
V wire screen flat panel without frames
WWSFP-6
Wedge wire screen welded to angle steel
WWSFP-7
Wedge screen panel with steel frame
WWSFP-8
Flat wedge wire screen sieve
WWSFP-9
Wedge wire screen disc
WWSFP-10
Wedge wire screen flat sieve for drying bed
Inquiry for Our Product
When you contact us, please provide your detail requirements. That will help us give you a valid quotation.