Wedge Wire Screen Cylinders with Different End Connections
Wedge wire screen cylinders are manufactured by v-wire running radially on the outside surface of the screen cylinder or running axially on the inside of the cylinder. According to the relationship of wedge wire and the supporting rod, there are four flow directions as bellow (see WWSC-2 to WWSC-5). Each connection point of wedge wire to the support rod is welded to increase the strength and durability. Wedge screen cylinders can be used as water well screen, rotary screen and nozzle screens for separating solids from liquids.
Our company has a professional R&D team - designing bespoke wedge wire screen products and solving your problems related to filtration. When your requirement is special or you can't find the same product you need in the market, tell us and we'll try our best to solve it.
WWSC-1
Wedge wire screen cylinder with axial internal opening
WWSC-2
Wedge wire cylinder construction
Product Specifications:
Item: Wedge wire screen cylinder.
Material: Stainless steel 304 & 316.
Diameter: 3/8 to 20 inch.
Length: 20 ft.
Slot spacing: from 0.02 mm.
End connection: flange, plain, NPT nipple, etc.
Features & benefits:
No clogging.
Mechanical strength.
Corrosive resistance.
Low pressure drop.
Less maintenance cost.
Servicing longer life.
Custom specification & end connections.
Applications:
Food processing.
Waste water filtration.
Mineral processing.
Paper industry.
Filtration directions:
FOTI (from outside to inside)

WWSC-3

Radical external opening

WWSC-4

Axial external opening

WWSC-5

New customized wedge wire filters, flitering the water from outside to inside.

WWSC-6

The filtering rate can be customized, and the material is absolutely qualified to meet customers' need.

FITO (from inside to outside)

WWSC-7

Radical internal opening

WWSC-8

Axial internal opening
WWSC-9
Wedge wire screen cylinder with flange end connection
WWSC-10
Welded wedge screen cylinder with plain end
WWSC-11
Water well screen with welded ring at one end
WWSC-12
Stainless steel wedge wire screen tube
WWSC-13
Wedge screen cylinder with stainless steel flanges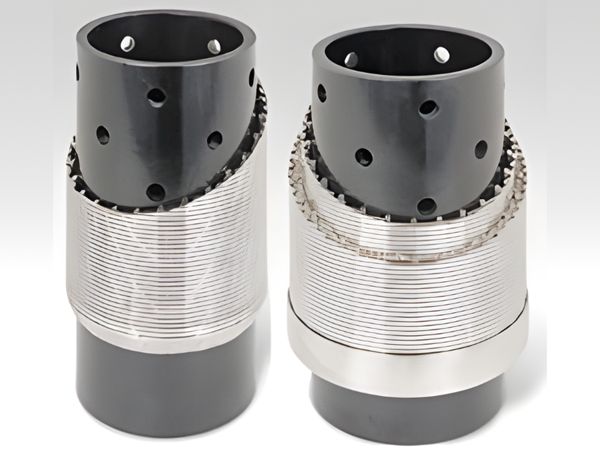 WWSC-14
Pipe based water well screen
WWSC-15
Wedge screen filter nozzle
WWSC-16
Stainless steel wedge wire water well screen.
WWSC-17
Rotary wedge wire screen cylinder for liquid & solids separation.
Inquiry for Our Product
When you contact us, please provide your detail requirements. That will help us give you a valid quotation.